Thursday, March 11th, 2010
Tripawds is a user-supported community. Thank you for your support!
It is a week today since we lost our beautiful Tehya and I wanted to post a tribute to her so you could all see what an amazing girl she was. Until now I wasn't able to gather the strength to do this as you can all imagine it has been one tough week.
Around 11.5 years ago we suddenly lost our German Shepherd Shelby to a twisted stomach and for a few months we went pet free which was extremely longely. My husband was adament that we would not get another dog, I however had other plans and thought that if I brought a puppy home he would love her to bits and there would not be a problem. So off I went looking for a puppy. A friend put me in touch with a well known Golden Breeder and the process began. I passed filled in the application, passed the interview and then she said well now that you have passed I just need to meet your spouse. Oh boy I thought there goes the puppy. After a lot of pleading from me and my sister and family off we went luckily for me her fell in love with Tehya's Mom and we were on the list for the puppy. We were told that her name had to begin with a "T" so I researched and found the name Tehya which is Native American for Precious. It could not have been more perfect! Her registered name is Orianna's Talanabay (Talanabay being a beautiful spot where we spend our summers).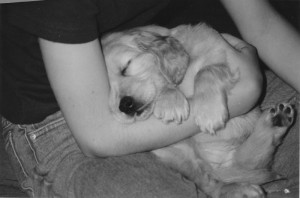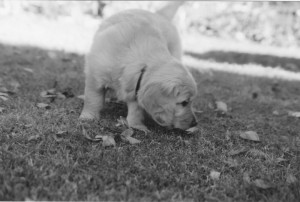 It was off to puppy school to try and teach her some manners she passed I failed. The teacher said you can tell who gives the hugs and who gives the discipline in your house. See if you can tell from these pictures who might be giving the hugs?
.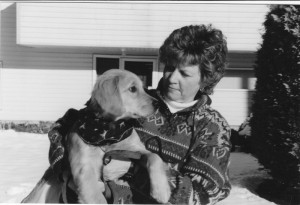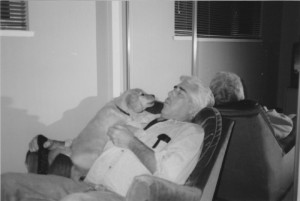 Everyone that met her loved her and she was soon to be the babysitter of the Shuswap. We have a summer condo and there are a lot of children in the neighboring units. Everyday Tehya would swim with them for hours on end. Not only would she swim she would swim circles around them so they couldn't go out to the deep water. We were forever getting knocks on our door with some little voice saying can Tehya come out and play. Her 2nd favorite summertime thing to do was to go for a boat ride. As you can see from the next picture she had the backseat all to herself.

.
I could write for hours on how she has made our life so special but won't bore everyone with my rambling. I just want to share one more story that shows just how much she meant to the husband who had to be nagged and tricked into getting her.
About 5 yrs ago my husband was very seriously ill and was in the hospital for three months. The nurses of course had heard all about Tehya and kept telling me to bring her up. Finally with my neighbors help off we went to visit. She stayed downstairs with my neighbor and off I went to get my husband. When I got him to the lobby he spotted her right away and his face lit up like a neon sign. He was hooked up to tons of wires and by gosh our girl found a way to get her head on his lap without touching one of them. She spent a good couple of hours just letting him patting her and not moving. We took her back a few more times after that and each time you could see my husband getting stronger and stronger. I swear just having her by his side helped him to heal even faster.
My final favorite picture is of Tehya and her best friend Kaydee I know they are both running together in heaven once again.
I hope that you have enjoyed reading a little about our precious Tehya! It has been healing to look at the old pictures and remember the good times!
Darlene